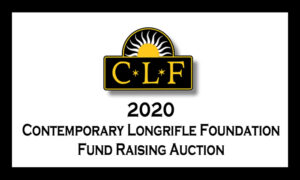 With the disappointment of the cancellation of Annual CLA Show and CLF Live Auction this year, we have for the first time been confronted with how to offer our artists' outstanding work to discerning patrons, as well as get them much deserved recognition.
After much discussion, research, and getting input from a variety of people as well as a recommendation from the CLF Live Auction Committee, the CLF Board of Directors has decided to auction the 2020 CLF Live Auction items through Cowan's Auctions, Inc. at their November 25 – December 9 online auction.
Cowan's Auctions is a nationwide Auction House with a stellar reputation for online sales. Marketing the items through Cowan's will afford additional publicity for the auction and the artists through their extensive auction network and can expose the CLA Artists to additional thousands of prospective buyers.
Cowan's will handle the entire package – promotion, collecting the money, shipping, etc., which will all be covered by their "buyer's fee" and shipping fees, etc. At our request, all our items will be kept together as a continuous group of lots and our auction titled, but will be part of a larger auction.
Because of your generosity to make and donate superb art for our auction, it has always been our goal to promote our artists and hope that it will in some way return to them on their commitment to the CLA/CLF. By partnering with Cowan's, we think this is the best direction to make that happen.  We will continue to promote our CLF Auction donors and their work through social media, websites, blogs and Facebook entries as we have done.  Look for these postings.
The CLF Live Auction items will be on display at the Fall Frolic in Sharonville, Ohio October 30-31st.   Please take the time to look at the CLF Live Auction items, if you are able to attend this show.  And please consider bidding on one or more of the Auction items, as the proceeds go to the CLF, which in turn directly supports the CLA.

Auction Process:
The auction will use an absentee method (sometimes known as "proxibid") where bidders place a high bid and the system will bid on their behalf up to that limit, only increasing the bid when another bidder forces it to do so. Bidders will be notified by email when their limit has been exceeded by another bidder allowing them to return to the auction to bid more if they so choose.
The auction will be visible to the public on the Cowan's web site beginning on November 25th, and people can start to bid on the lots on that date.   Beginning at 12:00 pm ET on December 9, bidding will begin to end with lots closing in ascending order one minute apart (Lot 1 closes at 12:01 pm, Lot 2 at 12:02 pm, etc.). If a bid is placed within 5 minutes of a lots scheduled closing time, the lot's closing clock will reset to 15 minutes to allow bidders time to respond to the new bid. This will continue until no new bids are placed within the final five minutes of the lot's clock.
The Cowan's Auction web site is at:  https://www.cowanauctions.com/
To register to bid at this auction:  https://www.cowanauctions.com/auth/registration?referrer=%2Faccount%2F
For questions, contact the Contemporary Longrifle Association directly at 540-886-6189.
A special thanks to the CLA artists for their generous donations.
Remember them when you need something you can't live without.
We are excited to feature works by the following artists:
• Heinz Ahlers • Darrell Brandenburg • Tony Chase • Mike Conkling • Carl Dumke • Jerry Eitnier • Jeff Gier • Benjamin Hoffman • Carrie Jessen • Jeff (Po-Boy) Luke • Rob Park • Linda Prichard • Barb Smith • Troy Sowers • Bob Browder • Shelly Williams (Gier) • Matt Wulff • Todd Butler • Verlin Cossel •  Adam Daub • Albert Emanuel • Simeon England • Mike Miller • Kyle Willyard • Lawrence Fiorillo • Todd Hambrick • Casey McClure • Maria Freed • James Frost • Mike Small • Billy Griner • Ron Hess • Chad Matthews •  GJ (Gary) Tingler • Doug Warren • Djuana Tucker • Dennis Kelley • Scott Summerville • Henry Bowman •Travis Bauer • Joe D Baxter • Calvin Tanner • Cory Jo Stewart • Rick Lorenzen • Jack Weeks • Greg Bray • Louise Hess •
Thanks to these artists for their generous donations.
Remember them when you need something you can't live without.